The easy to use staff holiday planner & booking system
Keep your staff in the loop and avoid clashes with simplified leave management
Save time with automatic holiday calculations
Instantly flag holiday clashes
Peace of mind you're following statutory laws
Keep updated on-the-go with our easy-to-use app
Join 100,000+ global businesses that trust BrightHR






Make your staff holiday management a breeze
Paper request forms and spreadsheets are a thing of the past! Arguments over who called first to book a holiday never need to be dealt with again. Our award-winning staff leave planner is the most straightforward and super-streamlined holiday management tool that works for any business.
Keep it simple with a single view of your entire team's schedule
Remove conflict with instant notifications of holiday clashes
Approve or deny holidays with a click of a button
Erase the hassle of paperwork and excel sheets with a digitalised calendar.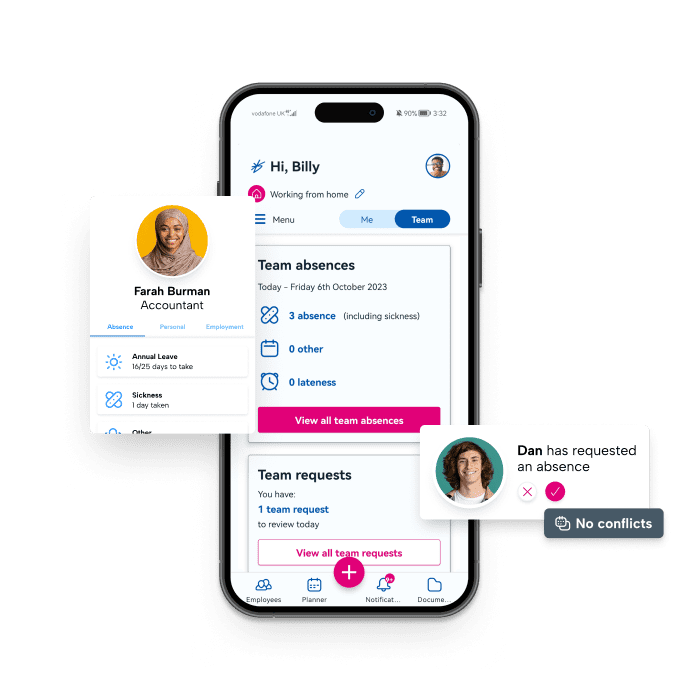 Get accurate holiday calculations at the click of a button
Did you know that most workers are legally entitled to 4 weeks' paid holiday a year? And it's your responsibility to ensure your staff take them?! Stay compliant with holiday allowances thanks to a system that calculates leave entitlements and statuses for you.
Have peace of mind with a system that does the maths for you keeping you in line with the law
Stay up-to-date on all staff allowances no matter if a new starter, entitlement change or change in pattern
Save time at the start of the year with a system that auto-refreshes
Your staff holiday booking system in four simple steps:
Using our employee holiday tracker is easy. Here's how it works:
Your staff use BrightHR to add a new holiday request and submit it at the click of a button
Then you, the employer, gets an instant notification of the new holiday request
BrightHR flags any holiday clashes, to help you avoid being understaffed
And you can approve or decline the holiday request on the go
What our customers say about BrightHR
Using BrightHR makes us much more organised and centralises our processes, making it quicker for us to manage sickness and holidays.

BrightHR is a user-friendly system and the team are on hand to answer any questions we ever have. I would highly recommend BrightHR.
Deborah Gillespie @ Change, Recruitment Group

Our staff absolutely love using the system and the ease of booking holidays and clocking in using Blip. Customer service is amazing...
Steven Greenall @ Cornerstone Children's Home

Approve holiday requests from wherever you are using our on-the-go BrightHR app
Never miss a holiday request thanks to the BrightHR alert system that notifies you of every request that comes in.
Save time by accepting or declining holiday requests on the go with the BrightHR app
Say goodbye to long-winded approval processes and replace them with the click of a button
Get instant notifications of holiday requests to approve/decline in seconds
Boost your employee happiness with a system that's as easy for them as it is for you
See BrightHR's holiday management software in action
Can't believe how easy we make holiday management sound?
See our holiday planner in action with our quick video demo. Or enjoy a personalised tour run by our friendly software specialists by booking your demo today!
Discover what more BrightHR has to offer
Interested in BrightHR? See it in action
Dive into our award-winning software and see our range of people management tools for yourself
A Guide to HR Software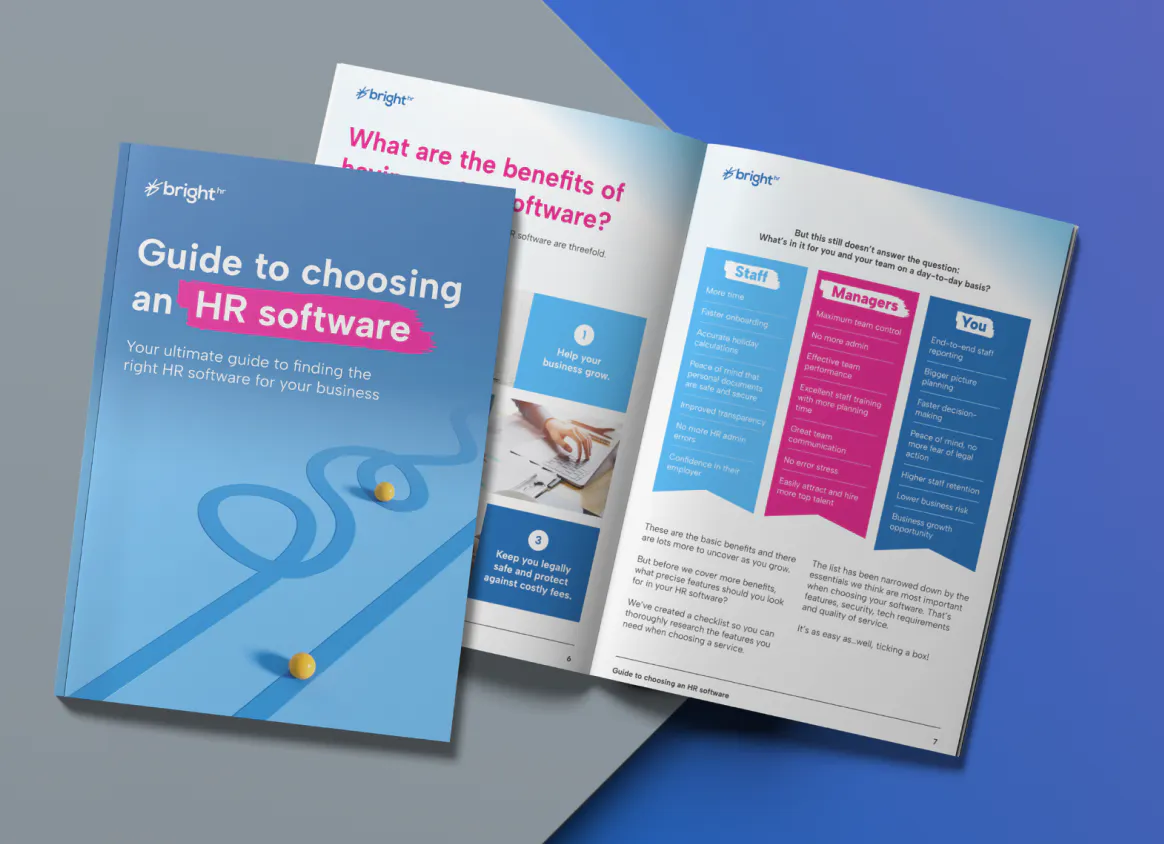 Reports
Thursday, Aug 17, 2023
Your guide to choosing the right HR software
The right HR software can become the backbone of your business. But there's lots to consider when choosing your provider.
From a handy checklist of the features you need to look for, to the risks that software can help you avoid, our Guide to HR Software covers it all.
Ready to get started?
Get in touch and discover how BrightHR can revolutionise your people management today