Our health & safety helpline is always on side
Need some H&S backup? Call our pros for immediate 24/7 health & safety advice.
Already a customer?

Start here

.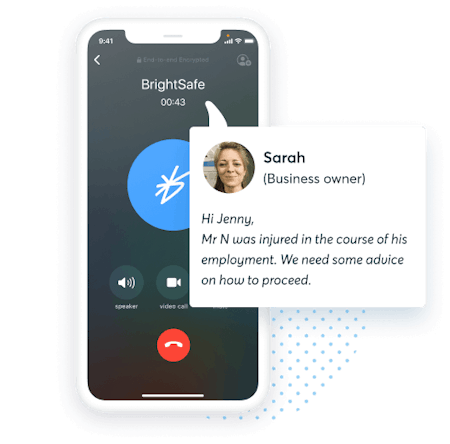 The fastest way to get health & safety advice for your business
Stop trawling the internet for unreliable health & safety information. BrightSafe Advice directly connects you to qualified H&S experts over the phone, day or night.
Escape a business crisis with clear and immediate guidance from our 24-hour health & safety advice line.

Prepare for HSE spot checks to protect your business from enforcement action or legal prosecution against you.

Stop starting from scratch—we keep a confidential log of your past calls so we can pick up right where you left off.

Our advice is always clear and up to date, so you can be sure you're getting the right advice at the right time.
A round-the-clock health & safety advice line based in the UK
You never know when your next health & safety accident will strike. Maybe a staff member has fallen on the night shift, or perhaps you wake up to another sudden change in Covid guidelines.
Whatever the issue, our 24/7 health & safety helpline offers immediate, round-the-clock occupational health & safety advice every day of the year.
And we don't do jargon. Our H&S experts translate complex law-talk into simple health & safety legal advice that's specific to your industry.
Plus, as our health & safety advice is for employers—and only employers—you know we always have your best interests at heart. In fact, we even offer health & safety insurance to give you that extra peace of mind.
BrightSafe's 24-hour health & safety advice comes as standard in our Prime package…